---
---
4 Sided Heating Lab Drying Oven
The VO-series vacuum ovens from LAB1ST are economical alternatives to those expensive vacuum drying ovens made in EU or US. We offers all digital forced air and vacuum drying oven, built with polished stainless steel interior, removable racks, overheat protection, inert gas inlet, temp calibration, timing and password functions. All ovens are CE compliant. We offer OEM and customization service.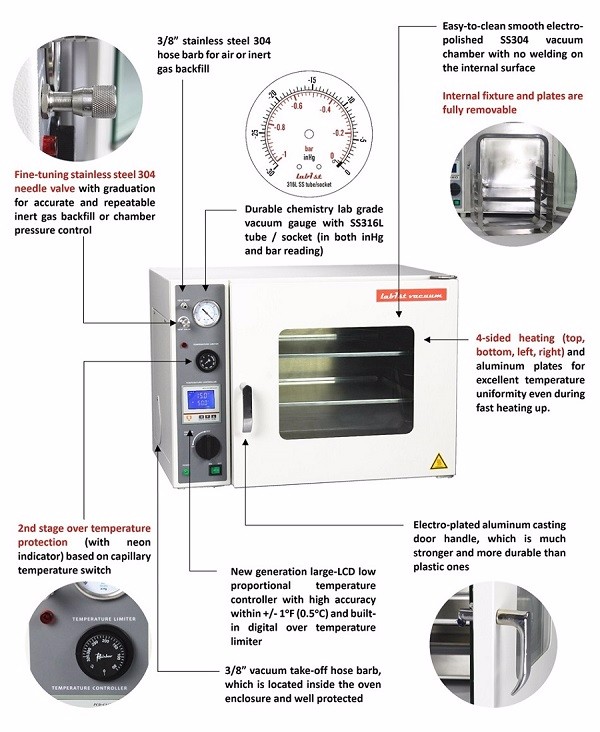 In a vacuum drying oven, the thermal processes occur in an airtight chamber where a desired level of vacuum has been applied using an external vacuum pump. With a vacuum oven the entire application can take place under vacuum or a controlled atmosphere can be created through the introduction of an inert gas. Vacuum ovens can help in the prevention of surface reactions (such as oxidation), decontaminating samples (removing lubricants for example) as well as for speeding up the out gassing process.
When determining the process you will use for a vacuum oven bear in mind that you will need to size a pump to meet this application. This requires defining the appropriate chamber size, the level of vacuum desired, and how quickly you will need to reach that desired vacuum level. Please feel free to call or email us to request any further assistance.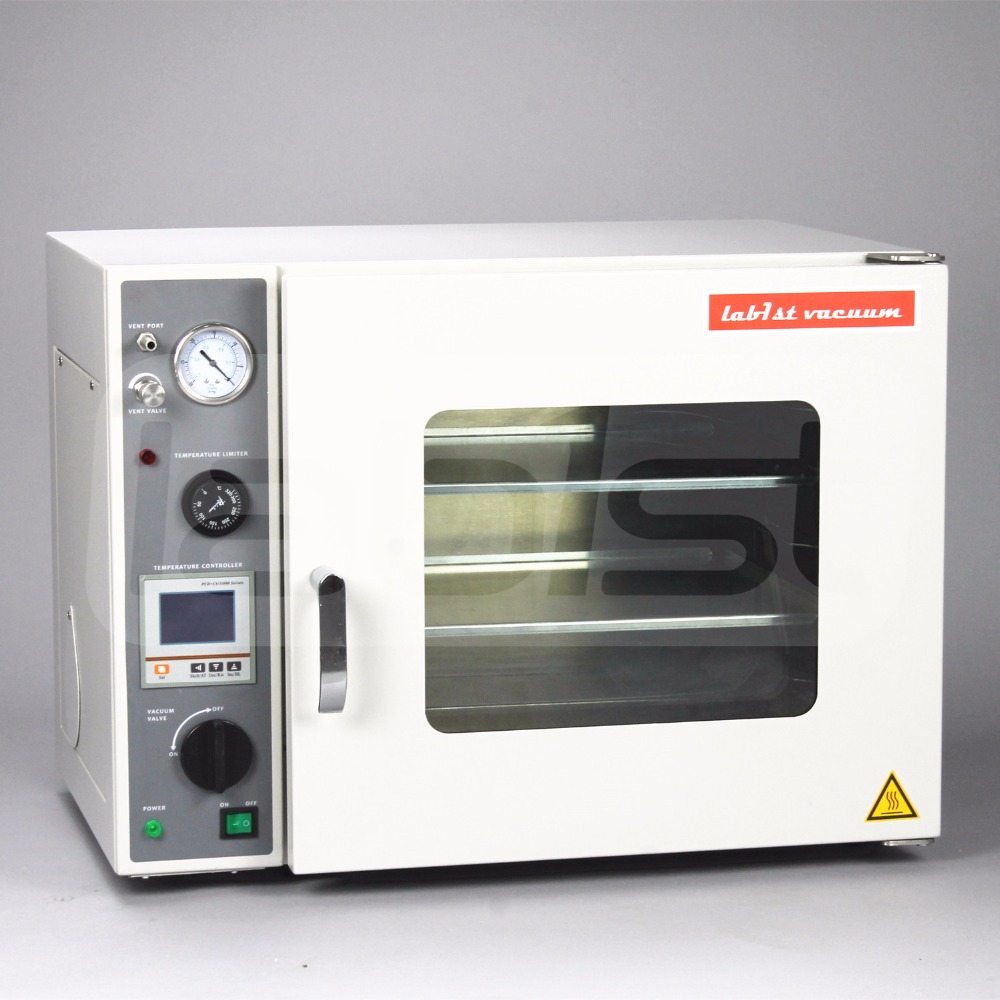 New secondary over-temp protection with visual alarm

Fine tuning SS304 needle valve with graduation for accurate and repeatable inert gas/air backfill or chamber pressure control.

The standard oven can hold up to 5 plates. Contact us if you need more.

Easy-to-clean and corrosion resistant SS304 mirror surface internal vacuum chamber.

Intelligent temperature controller with advanced PID algorithm maintains high accuracy (+/- 1°F or 0.5°C) in a wide dynamic range of 480°F (250°C).

Temperature display can be switched between Celsius and Fahrenheit.

Electro-plated cast aluminum handle which is almost unbreakable.

Mechanical vacuum gauge with stainless steel 304 Bourdon tube provides more accurate reading, longer gauge life and minimizes shipping damage.

Double scale vacuum reading in bar and inHg.

We use aluminum plates, which has 12x better thermal conductivity than stainless steel.

Dual layer observation window with adaptive 1/2" tempered safety glass, as well as force-adjustable door handle, to maintain constant vacuum level even for long-term operation.

A thick layer of thermal insulation outside vacuum chamber for low energy consumption. 

Electrical components are isolated from the inner chamber for the protection of user.

Various options (programmable controller, independent temperature switch, digital pressure indicator, etc) for your own customized system.

Modular design for easy and cost-effective maintenance and future upgrades.

Built-in timer of 9999 minutes/hours. 

All ovens come with one year warranty and lifetime components and service support.

Free phone and email customer support/consultation from our application engineers.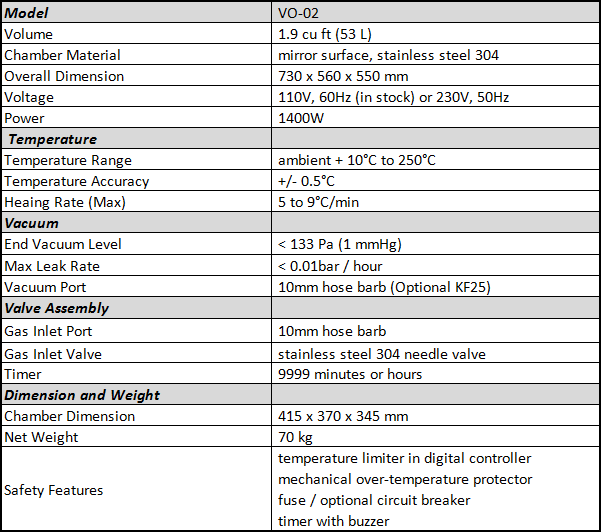 We offer different types of vacuum pumps: rotary vane oil pump, water-jet aspirator (chemically resistant), and PTFE diaphragm pump
Pump adapter, silicone vacuum hose, KF25 vacuum supplies, cold traps, etc.
---